PRECAST INSTALLATION SERVICES
In addition to the supply of precast products, we can also offer a full design & Installation service. 
Our installation service is carried out by a specialist precast installation team who have many years of experience and are fully qualified to install our full range of retaining walls.
Our installation partner, Modular Cubed have extensive experience of installing and sealing the CBS precast retaining walls. As well as installing our products, they are also able to provide:
Technical Drawings
Structural Calculations
Bespoke Designs
Groundwork & Civils
Mastic application & Joint Sealing
You will find more information about their full range of associated precast services and examples of completed projects on the Modular Cubed website.
The installation team combine their experience and expertise with a specialised installation crane vehicle to ensure products are correctly installed and work is completed to the highest standards.
Free advice from our technical team if you wish to install our products yourself

Installation of up to 100 linear metres per day

Additional groundwork services also available

CAD drawings and files available
Respecting the instructions for use will prolong the lifespan of our products and provide optimal functionality.
The elements must always be placed on a surface that offers adequate support and an equal consolidation ratio for the entire area. The user is fully responsible for assessing and carrying out any improvements to the stability of the substrate.
A foundation of stabilised sand is applied to the substrate. The thickness of this layer depends on the substrate. The stabilised sand is applied at least seven days before the elements are installed. This foundation is applied with an excess width of at least 10 cm with respect to the base of the elements and ensures equal support for the elements. During installation, a filler layer of sand or not yet hardened stabilised sand is used to correct any possible differences in elevation of the foundations or the elements. For elements measuring 3m or higher we advise that a foundation of stone rubble is placed under the sand cement bed.
A calculation note is available for each standard element. This can be requested free of charge. For each retaining wall the soil used to fill the side of the base must always be taken into account and have an equivalent mass of 1,800 kg/m³, in combination with a load of 1,000 kg/m² or extra stacking soil with an equal mass of 1,800 kg/m³ under a maximum talus of 30%. A calculation note can always be produced for heavier loads.
For the agri walls the material used to fill the side of the base must always be taken into account and have an equivalent maximum weight of 1,000 kg/m³. The maximum angle of repose is 30%. The maximum axle load above the repose angle is 15 tonnes for a vehicle with a wheel width of 1 metre, taking our instructions into account. When storing maize our walls are calculated for maize that is chopped to 6-8 mm with a dry matter content of at least 33%. In conditions where the concrete walls are exposed to chemical agression, extra protective measures are to be taken. One of the best measures is an Epoxy resin coating, combined with a plastic covering system. The calculation notes are compiled according to NEN 6702 and NEN 6720. The buyer declares to have been adequately informed about the properties of and possible applications for the goods sold. The buyer agrees to only use the goods for their intended purpose. He/she bears full responsibility for exceeding the recommended stacking heights and the recommended loads.
The agri U-type walls must always be filled with soil before driving towards the adjacent silo.
Our concrete complies with the strictest norms for European concrete standards NBN EN 206-1:2001 related to resistance against aggressive chemical attack. In certain environments an attack on the concrete elements cannot be ruled out entirely. To optimise the concrete's sustainability and to reduce the risk of attack to an absolute minimum it is strictly recommended that our concrete elements are combined with silo varnish, coatings, epoxy or a silo lining. This preventive measure particularly applies to biogas installations.
CBS Concrete can never be held liable for damages resulting from the failure to respect the instructions for use. Any applicable warranties are also excluded if these instructions are not fully complied with.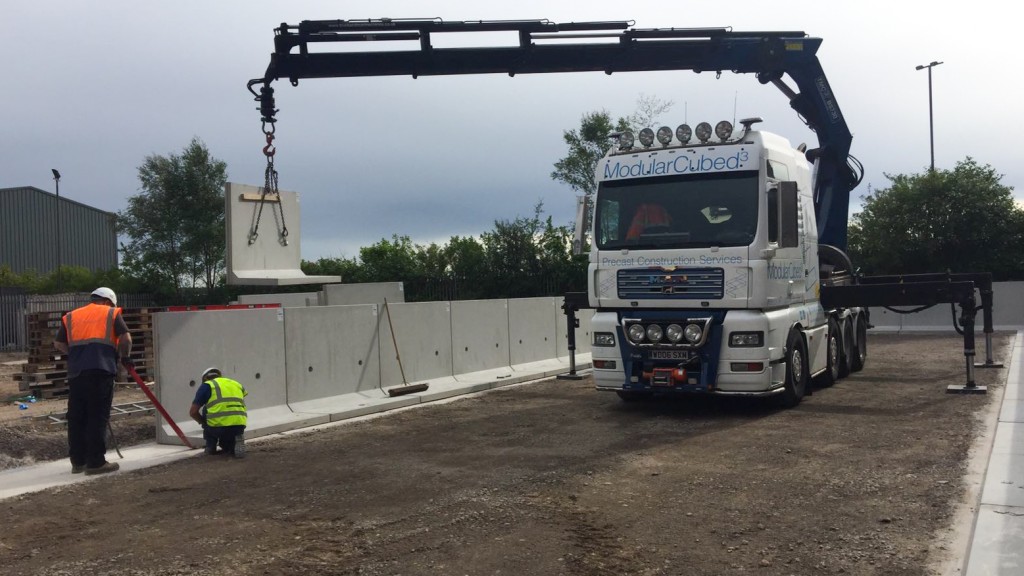 Off-load & Installation
Combining the benefits of unit lengths of up to 6m and the skill and experience of the installation team, it is possiblle to position up to 100m of retaining wall per day.