L-SHAPED PRECAST CONCRETE RETAINING WALL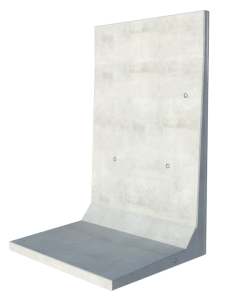 Features & Benefits
Extensive Range of Heights from 0.5m – 6.0m

Wall Lengths of 1.0m – 6.0m

Exceptional Concrete Strength C60/75

Surcharge Capacity of up to 25kN/m²

Free-Standing & Bolt-Down Options
CBS Retaining Walls have one of the most comprehensive ranges of L shape precast concrete retaining walls available in the UK. With an extensive range of heights starting at 0.5m up to 6m and unit lengths from 1m to 6m.
CBS precast concrete retaining walls offer many advantages compared to other retaining wall systems in the UK.
The unrivalled installation speed, enables up to 100 linear meters of retaining wall units to be installed per day.
Key feature and benefits of our L shape retaining wall include:
Walls lengths 2 – 6 meters (1 meter length and bespoke lengths are also available).
Huge cost savings can be made with the simple foundation requirements paired with the fast and simple installation, no fixing to foundations required.
L type retaining walls are available in many variants with a tapering thickness to equal thickness throughout the height of the retaining wall unit.
Corner sections available for all unit heights.
Units available with groove to groove and tongue and groove joint detail.
Surcharge capacity of 10kN/m² and 25kN/m² can be achieved.
Units can be manufactured with a heel for certain applications where increase stability is required.
Tongue-Groove joint units can be installed to form a curved wall without any modifications to unit bases.
CBS Concrete Retaining walls are suitable for a wide range of applications including:
Earth retention
Waste Management
Salt Barns
Bund Walls
Flood Protection
Storage Bays
The precast retaining wall units are designed to retain free draining granular material with a maximum density of 18kN/m³ and surcharge capacity of 10kN/m². The CLF10GS also has a reinforcement design which enables these units to take surcharges of up to 25kN/m².
The reinforcement design in our L shape retaining walls, are ideally suited for projects where the retained material is on the toe side.
Depending on the application & site ground conditions, the units do not require fixing to a reinforced concrete foundation and can be installed directly onto a Type1 sub-base & sand/cement blinding layer.
If you are installing onto an existing foundation, or cannot backfill in front of the unit as shown below, a resin anchor system can be used to prevent sliding.
For situations where you will require to retain material on the back of the wall or for double load scenarios, (retaining on both faces), please refer to our DLF10GS product.
Our C60/75 self compacting concrete mix provides the precast elements with an excellent class A finish to all visible faces.
In addition to this we are able to offer some bespoke features to further enhance the appearance of the L shape precast retaining wall units:
Sloped Top – A maximum sloping top to any one precast element of 500mm per 2m, (or 1 : 4 gradient) can be achieved. This finish is particularly popular when constructing staircases or ramps & for varying levels on site.
Stone Box – The hybrid gabion retaining wall system, combines the speed & cost benefits of a precast retaining wall and the aesthetics of a gaboin basket.
Reckli Decorative Print – With four patterns in production and a catalogue range of over 200 decorative patterns, Reckli form liners enable architectural features to our precast retaining walls.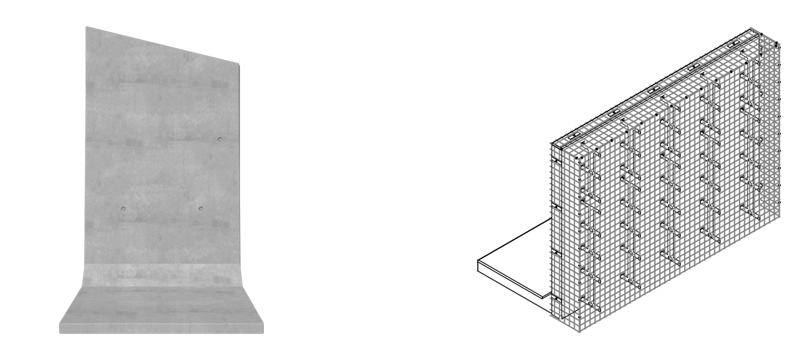 For all unit heights in the L shape retaining wall range, internal corner units are available. Standard 90° corners are cast in single piece 2m x 2m lenghts, bespoke lenghts are also available to suit shorter wall returns.